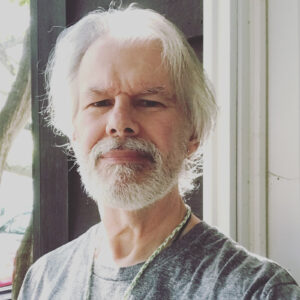 In the Spring of 2019, almost by accident, Brian Noe began a daily meditation practice. It changed him.
He began devoting more and more time and attention to spiritual development, and on July 8th of 2020 took the name "Shyamatara Das" (Servant of the Divine Mother).
Shyamatara is a Sanskrit name for the Divine Feminine – the Mother of All Buddhas, the Jewel in the Lotus Blossom, the Guiding Star in our hearts.
Brian's own daily practice continues to evolve, but currently centers on praying the Divine Office, singing bhakti, and silent mantra meditation.
He is a devout Roman Catholic Christian, who finds guidance, comfort and beauty in an interspiritual approach. He is particularly drawn to mysticism, whether in Christian, Hindu, Buddhist, Jewish, Sufi or other form.
Shyamatara Das lives in the greater Chicago Southland. A writer and musician, he considers it his life's work, for whatever years he may have left, to explore and share practices which foster compassion, harmony, well-being and ease of heart.