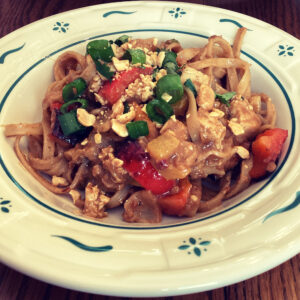 I've been wanting to try cooking Pad Thai for a long time, and finally got around to it last week. I had already researched recipes, but when I told my wife I was planning to make it, she scared up one more that was helpful in pulling together the dish.
Since my version does not include the shrimp and the fish sauce that are typical in Thailand, it's not "authentic" Pad Thai, so I'm going to call it "Pad Bri." 🙂
If you want, you could leave out the tofu. You could also add whatever other veggies you would like for the sauté. For a gluten-free version, use Tamari in place of the soy sauce.
For the Sauce
Combine these ingredients slowly one at a time, and when fully combined boil together for three or four minutes.
4 T tamarind paste
4T soy sauce
3 T garlic chili sauce
2 T maple syrup
1/4 c powdered peanuts
maybe some peanut butter
1 c veggie stock
Prepare the Tofu
Saute tofu cubes in a little sesame oil, then add soy sauce, some spoons of peanut butter, and a little of the garlic chili sauce. Reserve this.
For the Veggie Sauté
Cook the onion first, then add the garlic and ginger until fragrant, then the other veggies of your choosing. Finally. add the bean sprouts and a squeeze of lime. I used sesame oil in the wok for this.
1 chopped onion
3 cloves of garlic, pressed
some grated fresh ginger
chopped red and yellow bell peppers
1 can of bean sprouts, drained
a squeeze or two of lime
Once these items are done, add a little peanut butter and soy sauce, the white part of some scallions, and then the sauce and prepared tofu. Finally, add a package of Thai rice noodles that you have already prepared by soaking in a bowl of hot (fresh from boiling) water for five minutes or so.
Toss all of this around in the wok to warm through, and serve with cilantro, scallions, crushed peanuts, lime wedges and Sriracha or other hot sauce.
This served our family of three, and there was enough left over for a nice lunch for one of us later in the week.