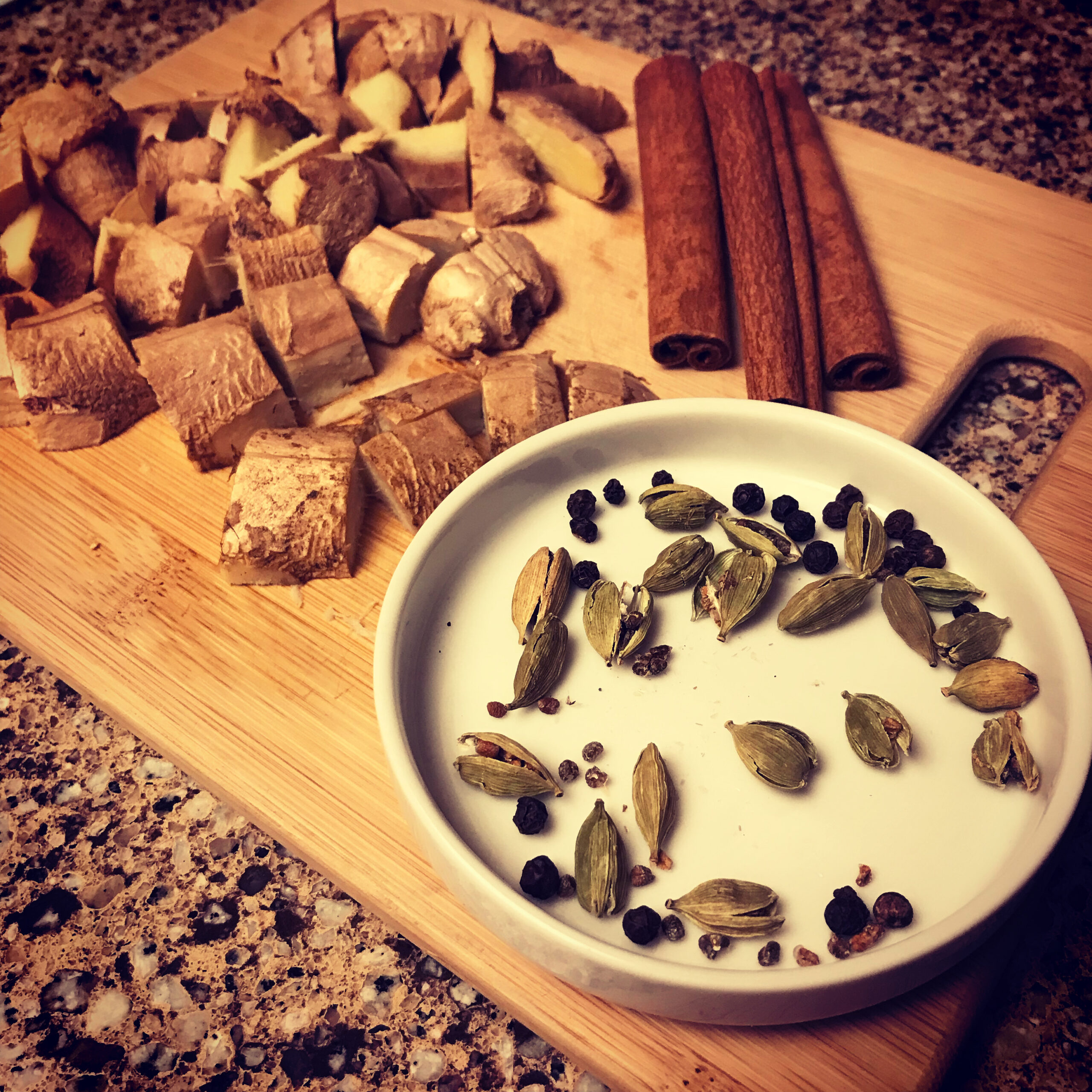 This is a delicious and healthy tea, based on the spiced chai that Yogi Bhajan encouraged his students to drink. It has excellent detox and anti-inflammatory properties, and is refreshing and reinvigorating, served hot or cold.
Ingredients:
15 whole cloves
3 cinnamon sticks
20 black peppercorns
20 green cardamom pods, cracked with the flat side of a knife
a 3 inch length of fresh ginger (or two) cubed
2 black tea bags
2 quarts filtered water
Bring the water to a boil and toss in the cloves while you gather and prepare the other ingredients. There's no need to peel the ginger, just chop it up into little chunks about the size of dice or smaller. The more ginger you add, the spicier the concoction will be.
Add all of the ingredients except the tea bags, and simmer, covered, for thirty minutes. Remove from heat and add the tea bags (which are optional).
Let this steep, covered, for about six hours, then strain through a wire mesh. It will keep nicely in the refrigerator for a couple weeks. To serve, I like to cut it with water (about half and half) for serving cold, or with (about 1/3) oat milk if warming it up. You can add raw sugar, honey, or whatever other sweetener you would like.
When I quit drinking alcohol, this beverage became my daily choice for "cocktail hour" at the end of the work day. It's a healthy alternative to frothy coffee drinks, or heavily caffeinated teas. It's good for digestion, and helps to bring balance to the nervous system as well. At least that has been my experience.
Let me know what you think if you try it!