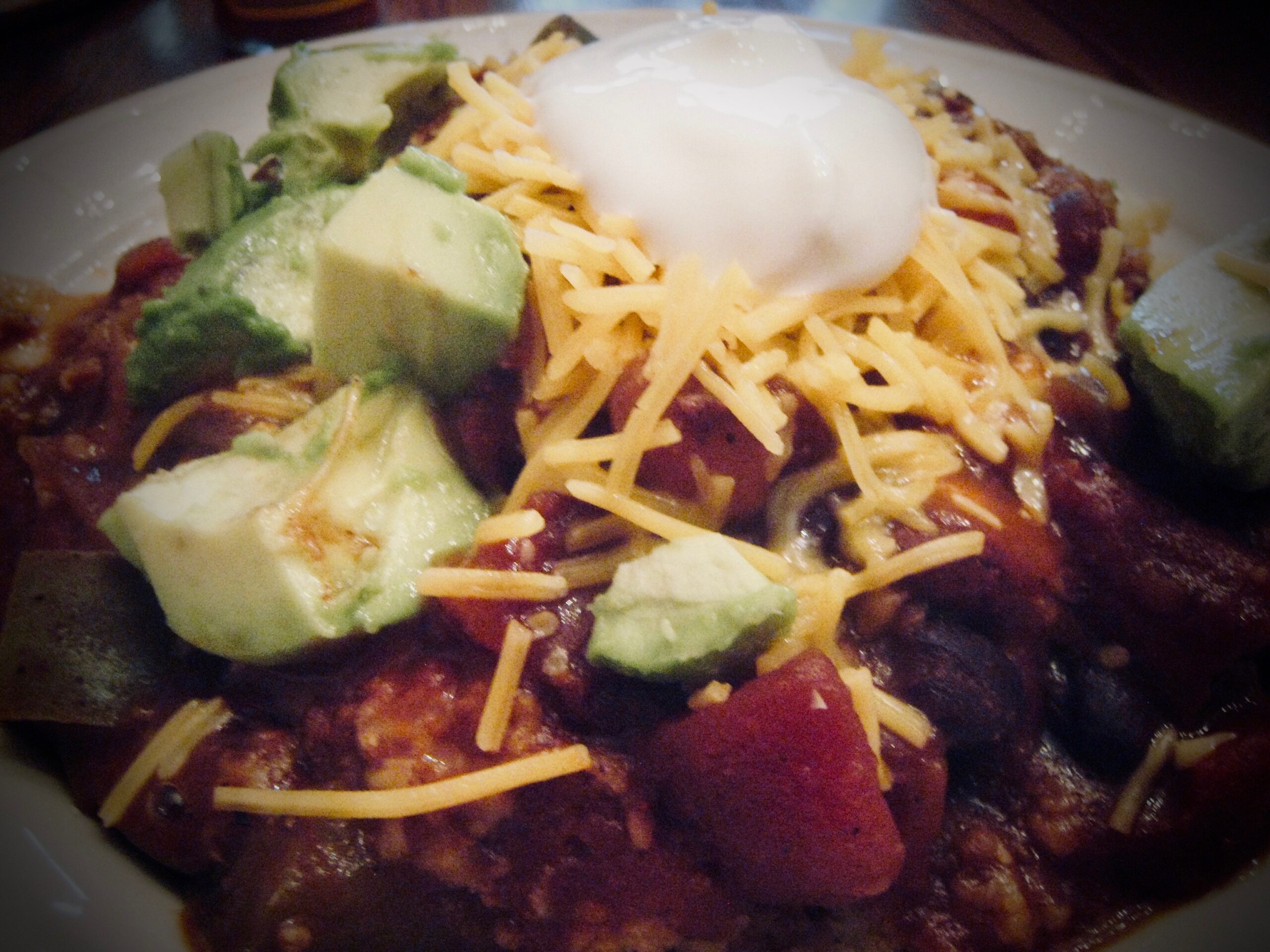 I found this recipe somewhere online years ago, and it's become one of our very favorites. We still eat some dairy in our household, so as pictured here it's not a vegan dish, but you could certainly use plant based cheese crumbles and cashew nut sour cream (or just leave those toppings off altogether) if you wish to forego the dairy.
Ingredients:
2 coarsely chopped large onions
several cloves minced garlic
vegetable oil
2 15oz cans dark red kidney beans
1 15oz can black beans
1 15oz can pinto beans
2 28 oz cans diced tomatoes
1 large green pepper, coarsely chopped
1 cup picante sauce
2 T unsweetened cocoa
1 package chili seasoning (we use the ones from Aldi)
1 can beer
a couple of dried Cayennes, or some red pepper flakes
kosher salt
ground black pepper
liquid smoke seasoning
1/2 cup old fashioned oats
Start by cooking the onions and garlic in oil, with a little salt and pepper. Deglaze the pan with a little beer, and put it all in a slow cooker with all of the other ingredients except the oats. I drain the pinto beans and one of the cans of red beans, but usually add the liquid from the rest.
After it cooks for three or four hours, check for seasoning and doneness and adjust as needed. I will sometimes move the setting on the cooker to low if it's roiling too vigorously. Sometimes I'll add Crystal or Tabasco sauce to kick up the flavor a little if it needs it. You could also include Habanero peppers or whatever else you would like instead of the Cayennes if you prefer.
About half an hour or so before you're ready to serve,  stir in the oats.
We usually serve this over cornbread, with some cheese shreds, cilantro, avocado chunks, sour cream and such for toppings. I like to make a double batch, so we have plenty of leftovers for chili mac, chili cheese fries (or our favorite chili cheeseburgers – we love to use Field Roast veggie burgers for that).
The longer this chili  cooks, the better it seems to taste. Rich, savory, hearty and healthy, we actually find it tastier and more satisfying than the greasy ground beef variety. Long before I became a more conscious eater, this was my favorite chili. I prepare it several times a year, and we always look forward to it whenever "chili weekend" rolls around.