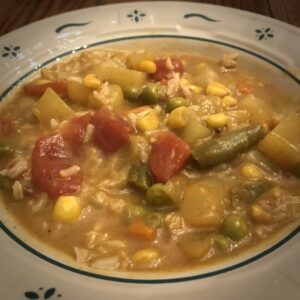 This makes a tasty and hearty weeknight meal, with lots of nutrition and not a lot of fuss. I use a 5 quart stockpot from beginning to end, so there's not a lot to cleanup. The most time consuming part is peeling and chopping the potatoes.
Here's the recipe.
Sauté two big onions, rough chopped, in olive oil with salt and pepper.
Add several cloves of garlic and a couple pieces of fresh ginger, minced, and cook until fragrant.
Add these spices and toast until fragrant and well distributed.
2 t Garam Masala
2 t Curry Powder
1 t Mustard Seed
1 t Ground Coriander
1/2 t Chili Powder
1/2 t Turmeric
1/2 t Paprika
Red Pepper Flakes (go easy – you can always add more at table)
Add 1 Can diced tomatoes.
Add 1 package frozen mixed vegetables (this is optional, but adds some color and nutrition).
Add 2-3 pounds of potatoes, peeled and cubed.
Add 2 cups of vegetable stock.
Cover and cook on low simmer until potatoes are tender.
Make a slurry with one can of coconut milk and 3 T cornstarch, add it to the pot and cook uncovered until the curry thickens.
I made some rice to go under this. You could also make puris, or serve with naan bread, or even biscuits out of a can, if you'd like. Tonight this served four of us, and there was plenty leftover for lunches the rest of the week.